DIY Cosmetics
Lip Gloss Container Matte Silver Top, Clear Bottom, Sponge Wand - Case of 789
Please Read this Article and Run tests before commercial runs with this product. ABS Plastic will have issues with high temperatures and essential oils.
Want to try this out? Smaller quantities may be purchased from DIY PAK for test runs.
Matte Silver Cap with Shiny metalized silver collar. The base has a thick wall with angles that give the gloss a beautiful reflection.
The bottom exterior is smooth round with a slightly tapered bottom.
The inside has six sides an shows off your colors.
The container holds 4 ml of product. Do not over fill them as you will find the plug hard to put in and risk cracking the neck.
Please always order a sample and read our warranty before ordering.
Here are some tips that are useful when it comes to filling your containers.
1. Make sure your liquid base is not so hot that it will melt or crack the container. Temps should not exceed 170F/76C .
2. Never over fill the containers. Remember you still have a plug and wnat that goes into the container. If you overfill you will have a mess or build up too much pressure inside the container.
3. Never Cap your product until you lip gloss base is completely cool. Capping too soon could cause the neck of the container to crack, and or a build up of moisture in your container.
4. The easiest way to put your plug into the container is to firt put it onto the wand, wide side facing up and narrower side facing the wand. Push it to the top and then put your wand into the contanier and screw the wand in. This will sit your plug into the container.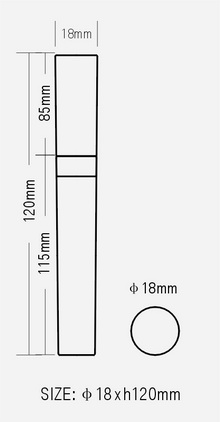 ---
Share this Product
---
More from this collection